The entire Kalmyk community was hard hit by the great economic crisis in the beginning of the thirties when many of them lost their jobs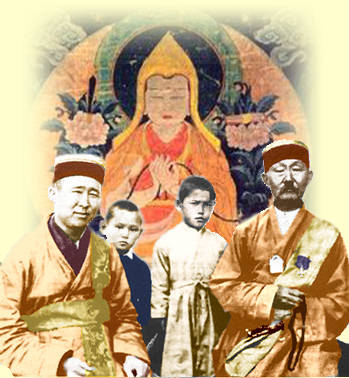 and were left without means of support. However, while browsing the official documents and records of Belgrade city municipality we learned that financial assistance was allocated to two Kalmyk monks (on the photo), as well as to two other monks at Temple: gelong Sandji Ignatov and Badma Petrov whose rank we were not able to determine.

From left: getsul Sandji-Ragba Menykov (1897 - 1968), boys studying Buddhist scriptures and prayers, the Head of the Temple (baksha) Jamnin (Sandji) Umaldinov (1882 - 1946).

These two monks have translated the prayer recitals from Tibetan into Kalmyk. S.R. Menykov was also a poet. Up to now three of his poems have been recovered.